We often get asked about how to write a press release for a book. In some cases, it's more about how to write an author press release, but whether it's for a publisher or an author, the process is similar. Here are some basic characteristics that define a good book press release.
Avoids sounding like a book review, at least not explicitly—The purposes of the book press release include getting reviewers to notice the book and driving book buyers to the right store or websites to pick up a copy for themselves. To achieve these goals, the press release has to present the book in a favorable light, while stopping short of reading like a book review. It's an exercise in objectivity, which can be difficult if the author herself is writing the press release.
Clearly announces the book's title, author and subject—This may sound obvious, but the book press release needs to identify the title, author and subject immediately. Even someone glancing at the headline and sub-head for a few seconds should get those vital facts. In the example we're using for this article, the following title demonstrates a technique that works. The headline "Judenrein, a Jewish Dystopian Thriller, Issues a Stark Warning of Rising American Anti-Semitism," establishes the book's title, genre and subject. The sub-head "New book by Harold Benjamin envisions the fate of America's Jews as white supremacists seize the reins of power in Washington" provides the author's name and adds to the subject description.
Delivers an easy-to-understand message in "lede" paragraph—The first paragraph of the press release repeats the succinct delivery of key information, but adds more detail and texture. The lede is also typically framed in terms of the publisher making the announcement. In some cases, the author may be the one making the announcement.
Comprises third person, objective writing—As with any press release, the tone needs to be professional and objective. This can be challenging in a book press release, because people usually publish books to tell an amazing story or send an important message. However, third-person, objective style is still essential. For example, instead of writing, "I wrote this book because the world is a nightmare!", it's preferable to say something like, "The book identifies nightmarish aspects of living in today's world." It's the same general idea, but expressed more objectively.
Avoids overt selling or hyperbole but does positively summarize the book's story—Let the book reviewer engage in hyperbole. The reviewer can say, "This book was an adrenaline packed rollercoaster ride that left me on the edge of my seat!" The press release should be more objective, saying something like, "This book offers the reader a fast-paced, suspenseful adventure."
Answers the question "Why should I read this book?"—The press release should implicitly address this fundamental question, which relates to why someone would elect to purchase the book.
Includes reader reactions—If possible, include reviews. This may not make sense, if the book is not out yet, but pre-release services like NetGalley can provide pre-publication reader reviews.
Includes how/where to buy information—Make sure to include links to Amazon, the publisher's site or wherever else people can buy the book.
The structure of a book press release
Press release structure varies greatly, so the following is not the only way to approach the task of structuring a book press release. This book press release format is effective, in our view.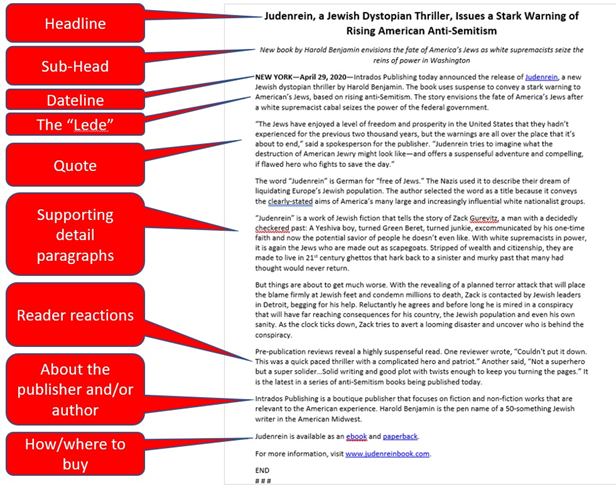 Example of a Book Press Release
The following is an example of a book press release we wrote earlier this year. You can use it as a template. Or, download our press release template in Microsoft Word.
FOR IMMEDIATE RELEASE
Judenrein, a Jewish Dystopian Thriller, Issues a Stark Warning of Rising American Anti-Semitism
New book by Harold Benjamin envisions the fate of America's Jews as white supremacists seize the reins of power in Washington
NEW YORK—April 29, 2020—Intrados Publishing today announced the release of Judenrein, a new Jewish dystopian thriller by Harold Benjamin. The book uses suspense to convey a stark warning to American's Jews, based on rising anti-Semitism. The story envisions the fate of America's Jews after a white supremacist cabal seizes the power of the federal government.
"The Jews have enjoyed a level of freedom and prosperity in the United States that they hadn't experienced for the previous two thousand years, but the warnings are all over the place that it's about to end," said a spokesperson for the publisher. "Judenrein tries to imagine what the destruction of American Jewry might look like—and offers a suspenseful adventure and compelling, if flawed hero who fights to save the day."
The word "Judenrein" is German for "free of Jews." The Nazis used it to describe their dream of liquidating Europe's Jewish population. The author selected the word as a title because it conveys the clearly-stated aims of America's many large and increasingly influential white nationalist groups.
"Judenrein" is a work of Jewish fiction that tells the story of Zack Gurevitz, a man with a decidedly checkered past: A Yeshiva boy, turned Green Beret, turned junkie, excommunicated by his one-time faith and now the potential savior of people he doesn't even like. With white supremacists in power, it is again the Jews who are made out as scapegoats. Stripped of wealth and citizenship, they are made to live in 21st century ghettos that hark back to a sinister and murky past that many had thought would never return.
But things are about to get much worse. With the revealing of a planned terror attack that will place the blame firmly at Jewish feet and condemn millions to death, Zack is contacted by Jewish leaders in Detroit, begging for his help. Reluctantly he agrees and before long he is mired in a conspiracy that will have far reaching consequences for his country, the Jewish population and even his own sanity. As the clock ticks down, Zack tries to avert a looming disaster and uncover who is behind the conspiracy.
Pre-publication reviews reveal a highly suspenseful read. One reviewer wrote, "Couldn't put it down. This was a quick paced thriller with a complicated hero and patriot." Another said, "Not a superhero but a super solider…Solid writing and good plot with twists enough to keep you turning the pages." It is the latest in a series of anti-Semitism books being published today.
Intrados Publishing is a boutique publisher that focuses on fiction and non-fiction works that are relevant to the American experience. Harold Benjamin is the pen name of a 50-something Jewish writer in the American Midwest.
Judenrein is available as an ebook and paperback.
For more information, visit www.judenreinbook.com.
END
# # #